Written by: Olivia Fairfield
Fifteen years ago no one would have believed that consumers would be looking at how the money they hold with banks , superannuation funds, and even the everyday products they purchase impact the planet. Nor that making purchasing decisions based on this. It's no longer industry funds versus the big banks, it's now ethical funds versus everyone else – and it's not the big players who are coming out on top.
Initially a niche consideration reserved for a handful of dedicated consumers , 'values based consumption' has exploded over the last five years as a key consideration in consumer purchasing intent and the expectations consumers have on brands.
Research from Nielson shows nearly 75% of millennials are willing to pay more for sustainable offerings , a 25% increase since the previous study in 2014. Not only that, 66% said they're willing to pay more to be purchase from companies who are committed to positive social and environmental practices.
As millennials move up the corporate ladder and their purchasing power increases , this market segment will only get bigger, and if you get in early with a credible values-based message these customers tend to be very sticky in the long-term. We can even see the huge influence they have at the C-suite level, with nearly half of researchers now millennials.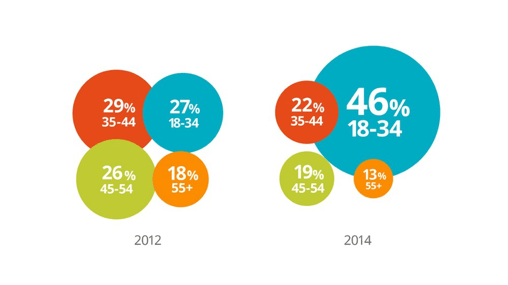 More and more ethical superannuation funds have emerged , such as Future Super, with a big focus on tapping into the global divestment movement through 'green' product offerings. Even established players in retail banking, like Bendigo Bank, are re-positioning themselves to tap into this growing segment of consumers.
In the financial services sector , this represents a real opportunity to combine sound investment decisions with a positive social impact.
And it's not just about ethical investment screens which reduce your exposure to industries such as mining , tobacco and gambling, with talk that the price of iron ore could collapse very soon, and an increasingly short-term investment outlook on fossil fuels, these funds-with-purpose seem poised to ride the coming renewable energy boom. The success of the divestment movement would suggest it's not a fad that is going to go away anytime soon, with over US$5.5 trillion already divested from the fossil-fuel industry.
Brands can no longer just compete on price, product and performance , they have to also compete on purpose if they want to survive in this new consumer paradigm. This means being purpose-led in everything you do, from your brand story and positioning, your product messaging, and who you do business with.