Written By: Michael Markowski The 2018 Farm Bill which was signed by President Trump on December 20, 2018, will double the projected size of the cannabis industry from $20 billion to $40 billion by 2022. The federal legalization of hemp and cannabidiol (CBD) in the United States has created an opportunity for the growers of CBD pharmaceutical grade hemp and the producers of CBD oils and distillates to make a fortune. This includes the management and shareholders of Upper Street Marketing ( UPPR[OTO] - $0.50 ) , which recently acquired Colorado based Growing Springs Holdings Corporation. The cannabis company's focus is on vertically integrated hemp genetics, large scale hemp cultivation and CBD extraction.The Farm Bill legalized hemp and CBD, which is produced from the hemp plant, by removing them as schedule 1 drugs under the Controlled Substances Act. The bill enables the hemp derived CBD industry to quickly become an equal rival and in fact exceed the US legal marijuana industry, which itself is projected to be at $20 billion in 2020. Based on the passage of the bill, the Brightfield Group projected that the CBD industry will grow to $5.7 billion in 2019 and to $22 billion by 2022. To put the revisions into perspective Brightfield had projected, prior to the passage of the Farm Bill, that the CBD industry would grow to just $1.65 billion by 2021. The graph below contains Brightfield's revised projections.
The CBD industry has the potential to grow to a multiple of the size of the legal marijuana Industry assuming that marijuana is not federally legalized and remains on the controlled substance list. Businesses which utilize CBD that is produced from industrial hemp have huge advantages over marijuana businesses since they can scale without stepping on Federal laws or fear of prosecution.
Unlike marijuana, a CBD business will be able to do the following as the assimilation of the Farm Bill rolls out in Federal and state jurisdictions:
Market and sell CBD products in all US States.
Open bank accounts with national banks.
Accept investments from US institutional investors and investment banks.
In addition to the above, hemp-derived CBD oil has many of the same medical attributes as the THC-based CBD oil which is derived from the marijuana plant. Since hemp-derived CBD has a significant head start, the majority of the new products which address the ailments in the table below will be derived from the hemp plant instead of the THC in the marijuana plant.
CBD has huge potential in the global over-the-counter and prescription pain management industry which is projected to be at $77.1 billion by 2023. The industry is ripe for disruption by CBD which is natural pain reliever. The side effects from the existing pain management drugs are significant.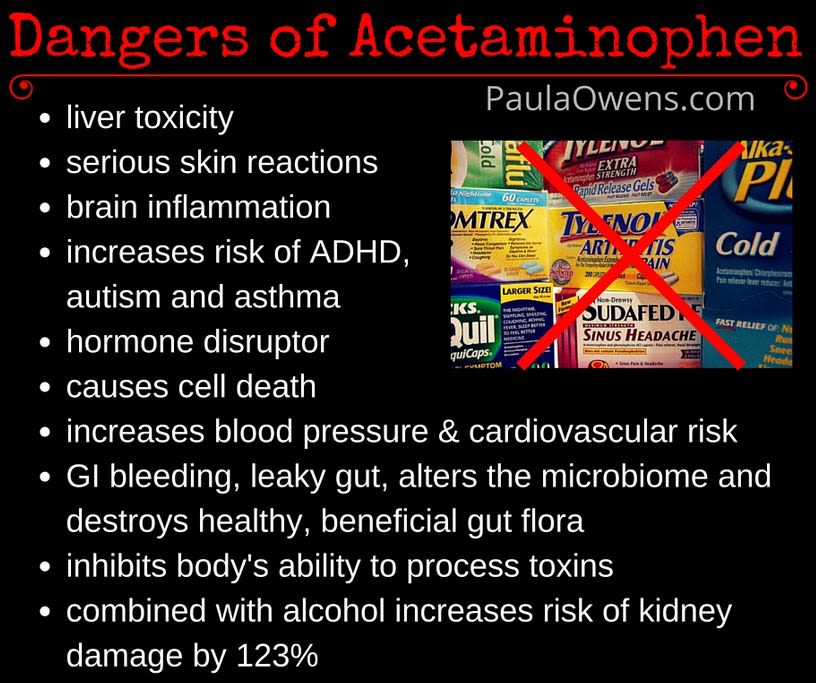 The chart below contains some of CBD's many different uses and applications. Now that hemp-derived CBD has become legalized, I expect the number of medical uses and applications to multiply very quickly. As early as 2020, CBD products could become available in the drug store chains and in Target, Wal-Mart and many other retail outlets.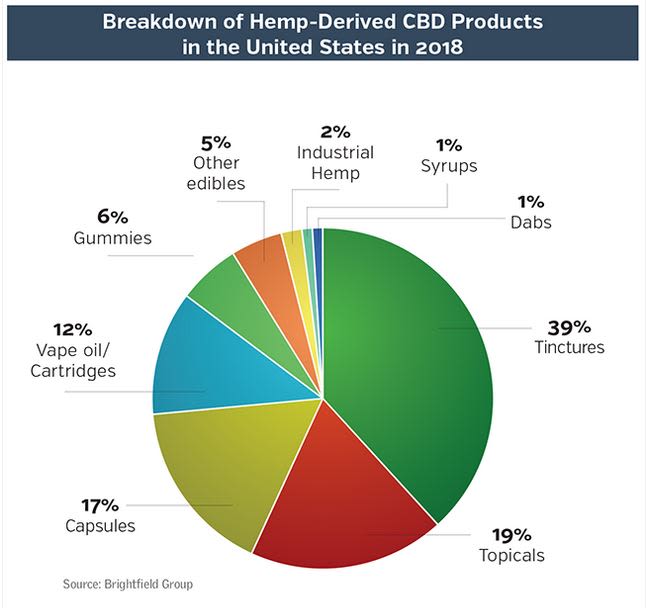 The rapid growth of CBD products is creating significant demand for US grown hemp which is utilized to produce distillates and oils. To meet the demand, I project that US farmers will have to plant one million acres of CBD grade hemp. There were 78,176 acres of hemp which were grown in 2018 in the states which had legalized hemp prior to the passing of the Farm Bill.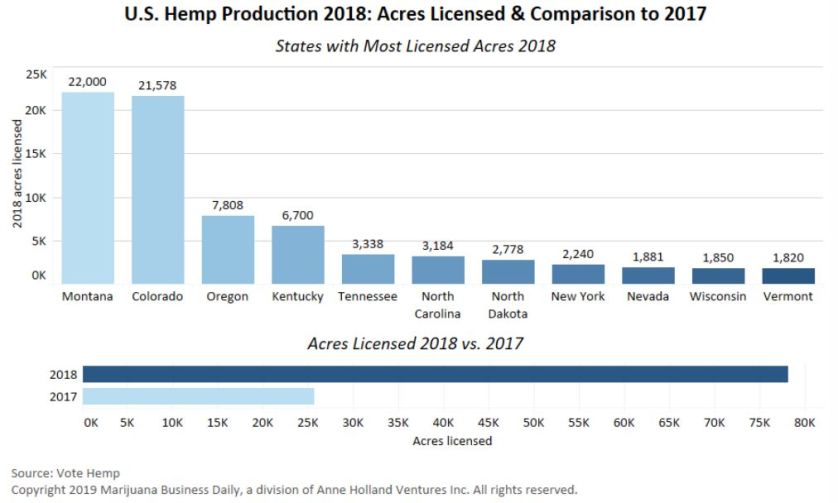 However, I was unable to determine the percentage of acres of hemp planted in 2018 that was applicable to CBD grade hemp. The CBD grade hemp distinction is important since all US farmers can now also grow hemp which is used to produce clothing and industrial products.Related:
Aurora Cannabis on International Expansion and Their Hemp Portfolio
Related:
How Proper Banking Services Can Help the Cannabis Industry Succeed
Hemp grown to be utilized to produce CBD oils and distillates, must meet the following standards:
Be pesticide free since it is ingested or applied topically
Be free of all contaminants, heavy metals and microbials.
Have CBD concentrations in the range of 10% to 20% to be viable for extractions.
The potential profits for the growers of CBD grade hemp and producers of CBD oils and distillates are substantial. Based on the latest wholesale price per ounce and the wholesale price per kilo of CBD isolate and/or distillate CBD oil, an acre of CBD grade hemp could generate as much as $200,000 of sales for the grower and producer. Given the exponential increase in the demand by the manufacturers of CBD based products that is soon coming, I predict the wholesale prices for CBD oils and distillates will skyrocket by the end of 2019.Growing Springs Holdings Corporation (GSHC), which operates as a wholly owned subsidiary of Upper Street Marketing after the October 2018 reverse merger, is a diversified products and services company focused on vertical integration for all phases of hemp cultivation and CBD extraction. GSHC will apply this integration to products that include, but are not limited to, a variety of wholesale food supplement and pet supply providers seeking wholesale cGMP pharmaceutical quality products at favorable pricing. GSHC will apply FDA cGMP to proprietary hemp genetics, custom organic nutrients, organically certified soil and CBD extractions.Joseph Earle, founder and CEO of GSHC, is now CEO of Upper Street Marketing. Unlike many of the current CBD producers, Mr. Earle's focus is to apply FDA cGMP standards to its vertically integrated model. Mr. Earle has the extensive experience and the skill sets that are required to fully leverage this very rare opportunity.
These include:
Developing and manufacturing pharmaceutical products.
Launching successful startups in numerous technologies for 25 years.
3 years as consultant to cannabis and industrial hemp markets and companies.
Specialized operations and manufacturing experience.
Growing revenues with successful exit strategies.
GSHC's initial hemp cultivation partner is a successful large-scale organic potato grower in Colorado. Based on the cultivation of 360 acres in Colorado that have been converted to grow CBD grade hemp, GSHC could potentially generate up $100 million of revenue and over $90 million in profits over the next 18 months. The company also plans to take its FDA cGMP standards to large scale hemp and extraction operations in Oklahoma, Nevada and other US and international locations.To grow the hemp and produce the CBD distillates and oils needed to fully develop the business plan the company is in the process of raising $15 million.To raise the capital, I am projecting that the company could potentially have to issue as many as 100 million new shares. Assuming the company obtains its financing and hits its projected revenue and profits, its share price could reach $5. Should the company raise its capital at a higher valuation, utilize debt financing or in the event that the wholesale prices for CBD oils and distillates might skyrocket, the share price could potentially be much higher than $5.Finally, I believe that the share prices of the hemp-based CBD companies will be much less volatile than the share prices of their marijuana cousins. It's because a US CBD company can become listed on the NYSE or NASDAQ while a US marijuana company cannot.With the publishing of this report, Upper Street Marketing has been added to the Shiny Pennies recommendation list. The focus of Shiny Pennies is to provide subscribers with low priced public company and private startup opportunities whose share prices have the potential to multiply. The "Free Cash Flow Investing" video below explains the research screen that I used to identify two penny stocks. Each of them multiplied by a minimum of 20 times.Shiny Pennies also provides subscribers with updates on those companies we follow. To subscribe to Shiny Pennies go to
https://bullsnbears.com/shiny-pennies/
.
DISCLOSURE
: I do not hold shares in Upper Street Marketing, and I have not been paid to promote the company.