Written By: Edward Kim More than half of all US adults— 124 million people —are diagnosed with a musculoskeletal condition each year. That's twice as many as those who report any other medical condition. According to The Hidden Impact of Musculoskeletal Disorders on Americans, 4th edition, 2018 by the United States Bone and Joint Initiative —the US national action network of the Global Alliance for Musculoskeletal Health/Bone and Joint Decade , an international collaborative movement sanctioned by the United Nations and World Health Organization—the costs of musculoskeletal disorders is rapidly approaching $1 trillion. Between 1996 and 2014, these costs grew from 3.44% of US GDP in 1996 to 5.76% in 2014, exceeding defense spending for that year . The report highlighted that our growing and aging population assures that these trends will continue—unless we as a society commit to investing in new research and clinical practice.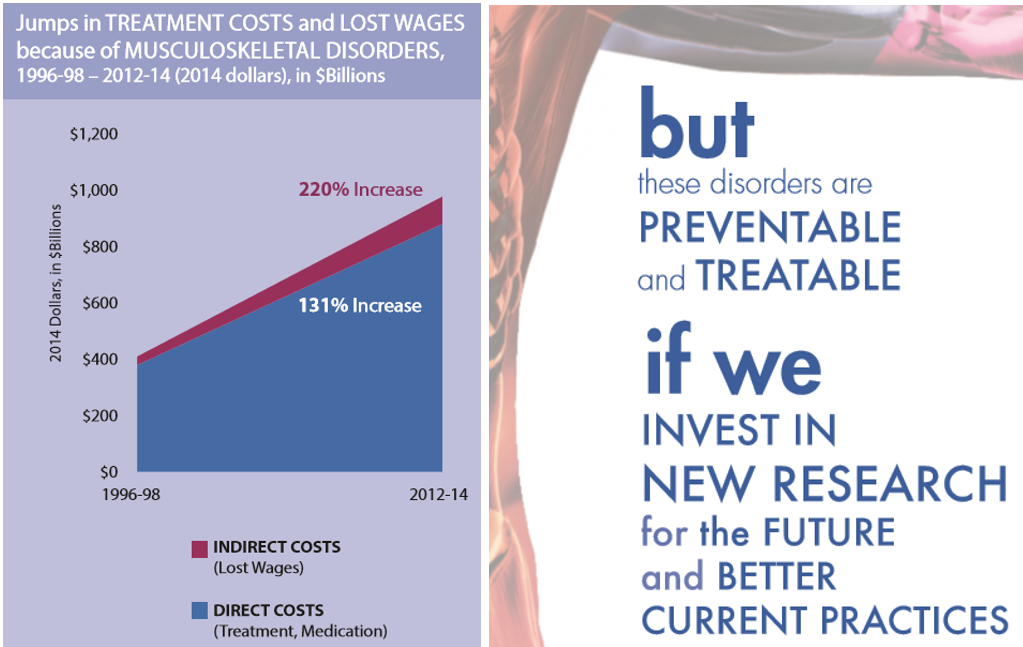 Source: The Hidden Impact of Musculoskeletal Disorders on Americans, 4th edition, 2018, United States Bone and Joint Initiative
Ortho Regenerative Technologies (CSE: ORTH)
We've recently begun following a Kirkland, Quebec, based company called
Ortho Regenerative Technologies
(Ortho RTi) (
ORTH:CNX[CNQ]
-
$0.31 0.06 (24.00%)
that is developing therapeutic soft tissue repair technologies to improve the success rate of sports medicine surgeries.
Ortho RTi's proprietary biopolymer formulation creates a bioactive scaffold designed to increase the healing rates of injuries to tendons, meniscus, ligaments and cartilage.
The biopolymer is designed to be directly placed into the injury site during a routine surgical procedure without significantly extending the time of the operation or requiring further intervention.Ortho RTi
announced
yesterday that it has initiated a six-month final animal study on its
Ortho-R
biopolymer formulation for rotator
cuff repair, another key step on its path to human trials. In December 2018, the company submitted its formal Pre-Submission package to the FDA seeking guidance after its animal data showed structural improvements with Ortho-R at three and six months. Ortho RTi further announced that it has a pre-IND (Investigational New Drug) meeting with the FDA later this month to formalize requirements for the filing of its IND to commence human clinical trials on Ortho-R.According to the company, four million Americans with rotator cuff injuries are at risk for disability. One-quarter of adults over 40 in the US develop a rotator cuff tear, as "weekend warriors" continue to get older, further escalating the problem. Only 600,000 surgeries are performed, with half of these failing within 6-12 months. Additionally, 50% of rotator cuff tears become larger in three years.
"The pivotal study is designed and powered to show statistically significant healing for rotator cuff repair by way of MRI and histopathology. The first series of MRI results will be available after 3 months and are expected to confirm our previous findings where we showed superior healing over standard of care. The study is also designed to assess whether the repair could be accelerated or further improved with a higher dose of Ortho-R. We had excellent results in our initial preclinical study, and it will be exciting to evaluate if more Ortho-R results in a further improved outcome."
- Michael Buschmann, PhD, Chief Scientific Officer, Ortho RTi.The company's progress has attracted the attention of leading scientists and orthopedic experts. Ortho RTI's recent large animal (sheep) study of Ortho-R has been chosen by a peer reviewed panel to be a podium presentation at the June 2019
International Combined Meeting of Orthopaedic Research Societies (ICORS)
in Montreal. ICORS attracts surgeons, sports medicine specialists, physicians and research scientists from around the globe, focused on how new discoveries translate into improved clinical care. It will be Ortho RTi's 16th peer-reviewed abstract, poster, manuscript and now podium presentation in the last two years, a notable record of accomplishment for a company less than four years old.In addition to Ortho-R, the company has several different programs targeted at different injury sites, including Ortho-M for meniscus tears, Ortho-C for articular cartilage repair and Ortho-V for osteoarthritis pain. Ortho RTi stated in its fiscal Q3 interim report for the period ended October 31, 2018, that it anticipates that human pilot clinical trials of Ortho-R "may start in the third quarter of fiscal year 2020," or in the quarter ending October 31, 2019.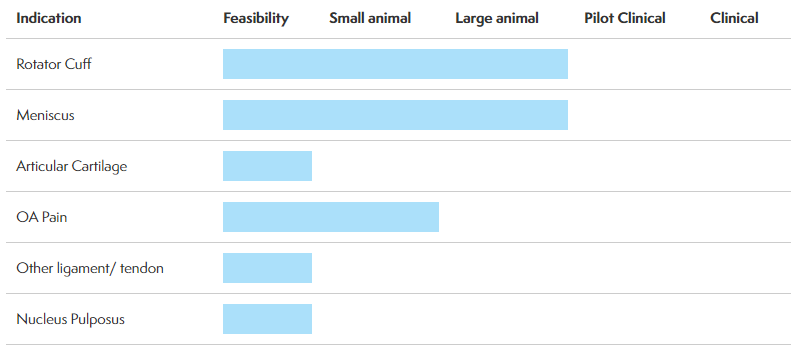 Source: Ortho Regenerative Technologies
Investment issues to consider
Ortho RTi has been listed on the Canadian Securities Exchange since 2017. The stock closed Monday, Feb. 12, at C$0.23, giving the company a market capitalization of under C$6 million. It's very thinly traded, with only 5,000 shares traded Monday and average daily volume of less than 3,300 shares year-to-date. In fact, it hasn't traded at all on 17 out of the 29 trading days so far in 2019. There was one anomalous print of note on
December 27, 2018, when a single trade of 1.28 million shares
hit the tape. It's not clear to this writer what the context may have been for this trade, but suffice it to say that it stands in dramatic contrast to a typical day for this stock.While the Canadian Securities Exchange may be famous for its many listed cannabis companies, we have found several interesting biotechnology companies to follow on "The Exchange for Entrepreneurs." For investors with a high degree of risk tolerance, Ortho RTi is an early stage company that may have a better solution for musculoskeletal injuries, and we think the company is worth following to see if it can continue to make steady progress toward human clinical trials.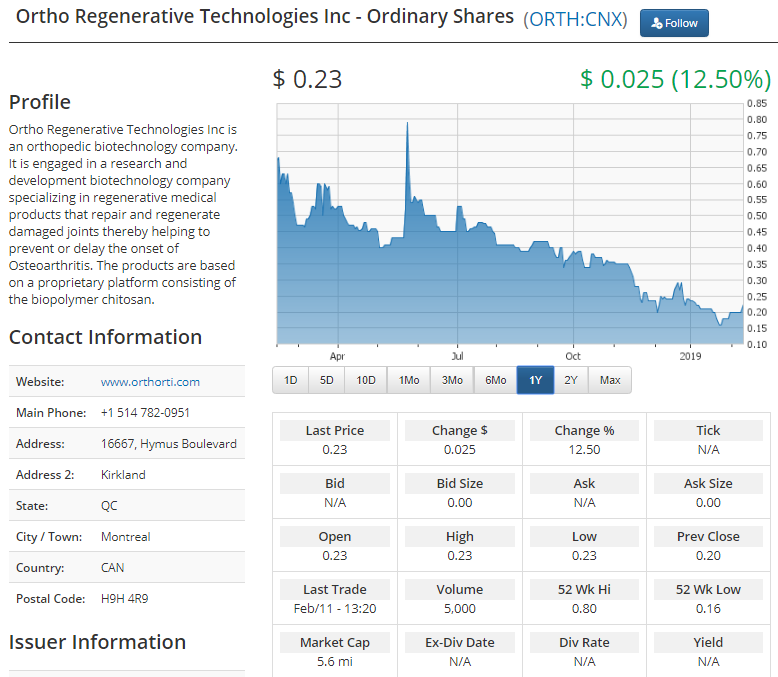 DISCLOSURE
: The author has no positions or any beneficial interest in, and has received no compensation from, the companies mentioned in this article. The views and opinions expressed in this article are those of the authors, and do not represent the views of
equities.com
. Readers should not consider statements made by the author as formal recommendations and should consult their financial advisor before making any investment decisions. To read our full disclosure, please go to:
http://www.equities.com/disclaimer