25 Super Easy Ways to Create a Diverse Link Profile
There is definitely more than one way to build links. In fact, there are many more not listed here that are worth exploring. Every SEO plan should incorporate a variety of link building tactics to ensure a good link diversity profile. While some of these tactics don't work as well as others, each can be an integral piece to your search engine optimization campaign and should be considered when constructing your link building plan.
While many will find some of these methods basic or nothing new (depending on your experience), I am sure there will be something actionable you can take away from this post. So, let's get to it! (btw, this list is simply in alphabetical order and by no means indicates preference of use)
1. Article Marketing
While not as effective as it once was, you can still use article marketing to help generate links to external content you create, for example guest blogging. The idea is that you make the page that the guest blogging content is on stronger by building up back links to it. Simply create articles discussing the topic of the guest blog content, and simply link to the guest blog in your author resource box.
While some may frown upon article marketing in general, doing it this way provides a buffer between the article marketing and your site via the guest post. However, most guest posting opportunities should be done on topically relevant blogs to your core audience or offerings.
2. Badges/Contests
Badges? We don't need no stinkin' badges! Actually, creating a competition where winners/users can display a badge on their site is a great way to generate links back to your site. You could run a competition for the "Top Business Blogs" for your niche and have users submit and vote on the winners.
This concept will actually lead to more links than just those that come from badges. For example, if you create a competition where users have to gain votes in order to win, you will find many who will tweet, link to, or even create blog posts on their own site discussing the contest (with a link back to your contest page) resulting in a variety of links.
At the conclusion of the contest, you can offer embeddable badges for the winners to display on their site which can link to the original contest on your own site.
3. Blog/Forum Commenting
Finding relevant blogs or forums to comment on is relatively easy. Using Google, you can simply use a search query such as:
"[keyword] + blog"
"[keyword] + forum"
Then peruse the search results to find relevant topics to provide an insightful reply to. Do not leave generic comments like "nice article" or "great job" as these will more than likely be deleted by the blog or forum owner. Ideally you would like to build a profile on these forums which creates relationships with the users. In return, not only will you be able to link when necessary, but you could potentially find customers by answering any questions they may have on topics you are knowledgeable in.
4. Case Studies/Industry Research (Whitepapers)
Provide in depth research and insight to industry related issues and information. MarketingSherpa does a great job creating reports that are very detailed to their industry. By creating an annual state of the industry report or study, users will likely view you as an authority and share the report with other colleagues.
Providing the report for free, through a download page on your site (accessed through a form submission) will make it easy for people to share. Be sure to title your page accordingly as this will typically be the link that is shared with others resulting in links pointing to your page/site. For some extra sharing juice, be sure to introduce social sharing buttons on your download page to encourage sharing of the whitepaper.
5. Competitor Link Reclamation
Similar to link reclamation (detailed below), instead of looking for broken links to your own site, this time we are looking for broken links to your competitor's sites. Using a similar process to what you would do to find broken links pointing to your own site, you are simply contacting external website owners that the links they are sending their visitors are no longer working and that you can provide them with an updated link that works. Chances are that most of these pages will already have nice page authority. Can you say no brainer?
6. Directory Submission
Submitting your website URL to directories is pretty much a thing of the past. This technique has been used and abused to the point where it is essentially a waste of time, especially with the over-saturation of free directories. However, there is benefit of being listed in directories such as DMOZ or Yahoo! Directory.
7. Education Outreach
EDU links are a hot commodity and can be difficult to obtain. I am not referring to EDU forum spamming, but legitimate EDU links from education sites that willingly link to you.
A great way to do this is to contact various EDU sites that have courses relating to your industry (hat tip to Wil Reynolds – MOZcon 2011). Explain to them that you have a particular piece of content or section of your site which may be valuable to current students. Should a particular professor have their own section of an EDU domain, it is a great chance for them to link directly to your content. Not only are you providing relevant information to those who need it, you are getting a high quality back link to your site.
8. Facebook
Creating a Facebook Fan Page is a great way to not only build brand awareness with current and future fans, it is a great way to expand your social reach. Within your fan page you can create posts that connect with your fans and ultimately get shared should the topic or content be compelling enough to do so. You can simply ask questions to your audience, or share content and information from your own site.
Some studies have shown that there was a high correlation between the number of shares a URL has and its organic ranking in Google. By enabling your user base to actively share your content within Facebook, you can potentially create a positive impact on your organic rankings.
9. Flickr
Have a company that is actively involved in the community? Fundraisers, charity events, etc? Have someone take pictures of the event and upload them to Flickr. When uploading, be sure to upload them under the "Creative Commons-Attribute License", which will allow others to use your images provided they attribute them to you.
For the description you get to use for each picture, you can simply provide additional text stating they are welcome to use the images providing they link back to http://ww.yoursite.com.
10. Google Discussions
Similar to the approach you would take with a Q&A site like forum commenting, LinkedIn Answers or Yahoo Answers, Google Discussions allows you to easily search the web for discussions regarding any search term you are interested in. You can sort all discussions, Q&A sites, or forums very easily. Simply find relevant topics to respond to and when appropriate and acceptable provide a link supporting your answer.
*Bonus Tip – Sort the results within the "past 24 hours" to find people who are currently interested in getting their answer to a question. Being timely can help create a relationship as well as lead to possible revenue later.
Related: 4 Social Media Metrics to Avoid
11. Google+ Local
Updating or creating a Google+ Local listing can significantly improve your local reach. With multiple locations, you can increase your real estate within the search engines. Providing relevant information about product and services and being able to apply a geographic location to it will aid in successfully being in front of potential customer and client eyeballs.
12. Guest Blogging
Establishing yourself or business as an authority, as well as creating links back to your site, can easily be accomplished through guest blogging. Ideally, you will want to target blogs that are related to your industry.
A quick way to find guest blogging opportunities through Google are simply to run a search like one of the following:
"[keyword]" "guest bloggers"
"[keyword]" "guest bloggers wanted"
"[keyword]" "submit guest post"
"[keyword]" "submit a guest post"
"[keyword]" "write for us"
"[keyword]" "become a guest writer"
"[keyword]" "become guest writer"
"[keyword]" "become a contributor"
[keyword] blog
"[keyword] blog"
intitle:[keyword] blog
inurl:[keyword] blog
"add comment" [keyword]
"post comment" [keyword]
intitle:tag [keyword]
intitle:post [keyword]
[keyword] guest writer
[keyword] guest blog post writer
[keyword] submit content
[keyword] submit post
[keyword] submit blog post
[keyword] guest blogger wanted
Simply replace [keyword] with the phrase or topic you are interested in writing about. Once you find opportunities, simply reach out to the blog and inquire about guest blogging on their site.
13. Infographics
Creating infographics, when done right can yield wide variety of links. An infographic is typically a graphical representation of data that would otherwise be boring to read in text or chart form. The most successful infographics are a great mix of data paired with an excellent and appealing design. It should be easy to understand and have a smooth flow between the different key points being covered in the infographic.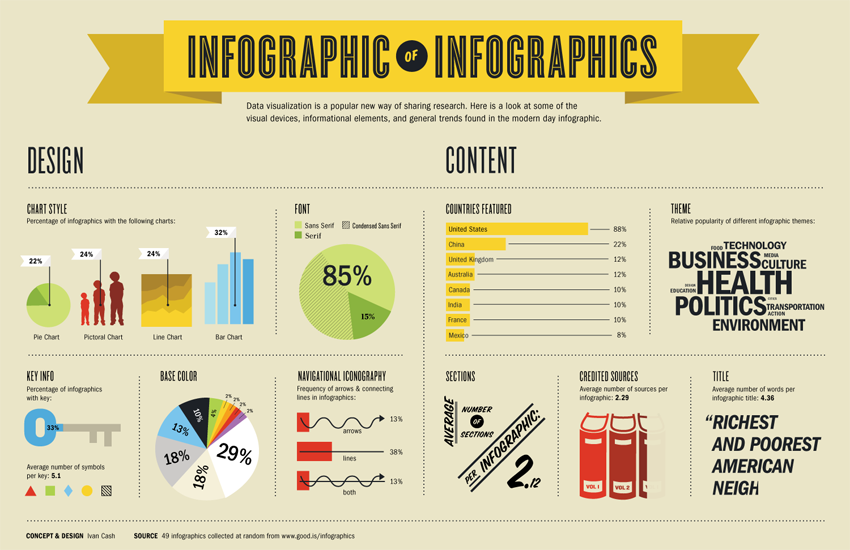 14. Link Bait Content
Create compelling and maybe somewhat controversial content that will get people talking. For example, take a current event (political/scandal/etc) and put a unique spin on it that will have readers debating both sides of the story. Should enough conversation be created about the content piece, it will surely be discussed on exterior sites from where the content was created.
Be sure to implement keyword rich anchor text within the original content in that if quotes are made referring to the topic on an exterior site, it is an easy way to generate some nice back links. As always, try to implement a targeted keyword phrase within the content title in that should this content go viral, it is very likely to be shared on social network sites such as Twitter, LinkedIn, or Facebook where the title is nearly always linked to the content piece.
15. Link Reclamation
Sometimes when a page gets renamed or moved, an external site is still linking to the old original URL. By performing link reclamation, you are reaching out to these site owners who are essentially linking to a nonexistent URL.
While you may have 301 redirects in place to send users trying to access the original URL to the new one, why not ask for the external site owner to update their link to reflect the location of the new one? By doing this, you get to reduce and link juice that may not get fully passed to the new URL in the 301 redirect as well as provides you with the opportunity to evaluate and update the anchor text of the external URL.
Should you have moved domains, chances are there is an abundance of link reclamation opportunities to reach out and notify webmasters that your site has moved and to properly update their links to your site (remember to evaluate the anchor text and change if necessary).
16. Press Releases
Creating press releases are another great way to generate links for your site. Please note press releases should not be about "John Smith getting promoted" but rather take an attempt to write a press release relating to a current event and relate it to a business service or product you offer. For example, if the service offered is "background screening", try a press release like "Do You Really Know Your Employees? Is There a 'Brett Favre' Working At Your Company?" You could then talk about really knowing the background of your employees who work for you. Probably, not the most current, or best example, but I think you get the idea.
By tying the business product or service to a current event, you can reach multiple audiences as well as create more of an opportunity for generating links. An added bonus is that depending on the topic covered it could even go viral, creating even more links!
17. Product/Service Video Reviews
Consider offering a product or service for free to a well known industry entity or expert on Youtube. Look for users who have a large following which could result in a significant amount of leads. Video testimonials are a powerful source of generating interest and buzz which could lead to multiple revenue opportunities that offset the cost of the free product or service you initially offered for the review.
An alternative concept could be to create a contest among existing clients to submit their own youtube review where you select a winner or two that win prizes. Tie the videos they submit to a voting system and you could have some nice user generated content that they build links to!
18. Q&A Sites
Establishing yourself as an industry leader can be accomplished by being active on question and answer sites such as LinkedIn Answers, Yahoo Answers, and Quora. Participating on these sites in relevant topics to your industry can easily help others perceive you as an expert.
Simply peruse current questions and topics and provide your insight and analysis. When applicable you can refer them to your website for a particular content piece that addresses the topic in more detail.
19. RSS Directory Submission
RSS submissions basically allow you to submit your site RSS feed to a variety of RSS aggregators. These aggregators will be notified when there is new content added to your site. Once these aggregators are aware of your content, typically they add a link to the new content in their site creating a link back to your website.
20. Slideshare
Powerpoint presentations have their place outside of the conference room. Consider creating a slide deck covering a topic that is best illustrated graphically.
A few examples you can use Slideshare are:
Repurpose an existing content piece into presentation form
Create "how to's"
Clarify a complicated process
Display pictures from an event (presentation, fundraiser, seminar, conference, community, etc)
Since Slideshare is an authority site, with a little optimization (keywords in presentation title, summary, and tags) you could easily rank your presentation for some relatively competitive keyword phrases.
Rand Fishkin does an excellent job utilizing Slideshare with information he speaks about at conferences.
Related: Why You'll Regret Spending Too Much Time on Social Media
21. Social Bookmarking
Social bookmarking is also another link building method that has less impact than before. However, it does not mean you still cannot use it to help build the authority of some of your other link building efforts. For example, if you created a guest blog post on another site, you could use social bookmarking to build up the authority of your blog post which in return links to your site. With the guest blog post having an increased page authority, it makes the link to your site on the blog post even stronger than if the page had zero links to it.
22. Testimonials 
Vouching for someone else's product or service can go a long way. Most businesses love to show off positive customer feedback, so why not use this to your advantage? Simply contact a site who you would like to leave a testimonial for and let them know how much you like their product and at the end simply say "My name is [YOUR NAME] with www.site.com".
The site owner will probably be more than ecstatic and want to show off your positive review by placing it on their website. A very simple, but yet effective way to create a link back to your site.
23. Twitter
While many will be quick to tell you "links on Twitter don't matter because they are nofollow", they obviously don't understand why this platform should be part of your link building campaign.
Google as well as Bing are using social to influence search results (despite what some might say). It is visible within search results that they are looking at your connections who have liked, tweeted or +1'ed a site or link hoping to influence you into clicking the search result. While you should use Twitter to occasionally promote your site/content, you should make an effort to share information from others more than your own.
24. Viral Videos
It is one thing to make a video, and another to make one that goes viral. Some keys to creating content that can go viral are to create videos that do some/most of the following:
Connect with the viewer on an emotional level – Creating a video that emotionally connects with a viewer will help create an affinity between the viewer and the nature of the video. This will lead to an increased chance of sharing from these users.
There is no box – Come up with the craziest off the wall idea or concept and make it happen. People like to be amazed, intrigued and entertained. If your video is not doing this, you need to start over.
Decent production value – While the video does not have to be professionally shot, using an HD camera makes it easier on the eyes of the viewer opposed to using a VHS video camera from 1992.
Make it consumable – Most viral videos tend to be less than a minute or two long. If your video is lengthy, consider breaking it into smaller bite size pieces.
Eye catching title/headline – Use a title that will get the attention of the reader. The title will be what shows up when the link is shared, so be sure to come up with something clever to get users to click and watch.
This particular video hits on just about all of the bullet points above, and in all honesty it's f***ing great!
25. Widgets
Develop an easy to embed widget relating to a product or service offering. This widget could be anything from a calculator of some sorts to a widget that imports current industry news. When developing the widget, be sure to provide credit (a back link) to your site. Please note that when developing a widget and providing a back link, it would be best practice to have the widget relate to the nature/industry of the back link you are using.