4 Common Perks That Are Actually Useless
Employees can rejoice because, according to SHRM, 35% of companies increased their benefits offerings this year, compared to only 28% in 2014. In addition, only 7% of employers decreased their benefits. But this isn't entirely good news. Digging deeper into many common benefits shows that they can actually come at the expense of employees — not always to their advantage.
A corollary to the benefits statistics from SHRM is another stat: pay has barely budged a cent in many sectors of the U.S. economy. Benefits, then, are what companies are using to attract workers and keep them on staff.
And many benefits sound excellent — lots of vacation time, a strong maternity leave policy, great health insurance, and even creative things like a concierge desk and maid or car washing services. But you always have to look behind the curtain.
As we delve into four common perks companies offer, you can see that things aren't always what they seem.
Unlimited PTO
Why they're useless
Major companies like Netflix and Virgin have started a trend of offering employees unlimited vacation days. But many employees are starting to show that not only is unlimited PTO not a perk, but it can also be a detriment. According to a study by Glassdoor in the Society of Human Resource Management:
Approximately 25% of U.S. employees reported taking all the time off given to them by their employers
Two out of five employees only took less than 25% of their allotted time off
15% took no time off at all

If, when vacation days are calculated and given out, employees are still not taking time off, companies know that an unlimited vacation time policy will only make employees less inclined to take PTO. Without the specific number in front of them, it will be even harder to ask for a day off unless they work at an organizational culture that encourages them to do so.
Why they're beneficial
During the first year of the job, it's typically difficult for employees to take the desired time off. Whether it's just a doctor's appointment, a well-earned vacation, or just a mental break, employees don't have the freedom or ability to take care of their personal needs.
With unlimited PTO, new employees are able to enjoy more work-life balance. Not having a set amount of hours to reference can be daunting and uncomfortable for employees, so it's the manager's job to reinforce the rules. Make it clear how unlimited PTO works and don't forget to encourage employees to take off much-needed days.
Employee Wellness Programs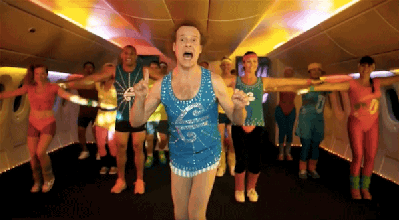 SOURCE: buzzfeed.com
Why they're useless
Because of new laws concerning health insurance coverage for employees, many companies have turned to the preventative employee wellness programs. On the surface, they seem like great benefits. But often, employee wellness programs are hiding major concerns for workers.
First, these programs can be discriminatory, depending on how they are used. While many companies offer monetary incentives to employees who take advantage of preventative health activities, such as joining a gym and visiting a biomedical screener, other companies are punishing those that don't participate in these programs.
For those without the spare income to join an expensive gym or visit new doctors, companies are taking money out of their paychecks. This can easily discriminate toward those with congenital illnesses that don't affect their job requirements, low-income staff, and older employees. There are even cases of people being fired for smoking at home.
Second, when your company is so tuned into your medical status, there is a high concern for privacy issues. And finally, many companies are raising insurance premiums or adjusting their health care coverage in order to put the impetus into prevention help.
Why they're beneficial
Surprisingly enough, exercise motivates employees. The Journal of Workplace Health Management found that 60% of employees said their time management skills, mental performance, and ability to meet deadlines improved on days they exercised.
Wellness programs help employees stay focused and get their work done on time. Even if your organization doesn't have a wellness program, you can still encourage employees to exercise on the job.
Stock Options


SOURCE: giphy.com
Why they're useless
There are two common ways organizations can offer employees shares of the company stock: traditional stock options and "phantom" stocks.
The former means that CEOs share small portions of ownership of the company with particular employees in exchange for their service at the company. Phantom stocks are common among private businesses that are preparing for an IPO — they are agreements of a compensation plan offering employees a payout when the company goes public. Both come with downsides.
In a traditional stock plan, employees must agree to a certain risk. In addition, stock shares tend to be taxable income, which can often result in employees paying equal to the cost of the stock shares in the first place. With phantom stocks, employees will get paid according to what the company's stock is equated at. However, there's no guarantee of what the payout will be, and if an employee's tenure at the company doesn't last until an eventual IPO, the employee receives no money at all. And it's not truly a perk if many employees don't get any benefit from it.
Why they're beneficial
They entice employees to stick around. Many organizations structure these stock options to accumulate over time — employees are given a set number of shares and are only eligible to buy them in incriments each year. Not to mention, stocks can potentially become worth a whole lot.
Ping-Pong Tables and Other Fun Additions


SOURCE: giphy.com
Why they're useless
In an attempt to attract younger millennial employees, companies are investing in their office environment in creative — and sometimes extravagant — ways with things like rock climbing walls, DJ booths spinning tunes, and even ball pits that will remind you of your childhood.
A ping-pong table can be a small perk, but it doesn't go beyond that without more company investment. Sure, these elements are often great signs of a company culture, but only if the company backs them up with support of its employees. Is that ping-pong table coming at the expense of more vacation time, stronger maternity leave policies, and better health coverage? Or are crazy office perks — like nap rooms, free massages, and stocked refrigerators — a part of a larger organizational culture of putting employees first? That varies from company to company.
Why they're beneficial
Work-life balance. Sometimes employees need just to take a quick break from work and play a game of ping-pong. Even having a fully stocked fridge helps employees stay energized throughout the day.
When it comes to any company perk, always think about what expense you are getting it. Wellness programs can often mean higher health insurance premiums, promised major payouts can often never be realized, and pool tables sometimes are just pool tables.