You heard it. Twitter, the social media giant, laid off a whopping 336 employees (AKA 8% of their workforce).
At first, the hashtag #Twitterlayoffs was used by former employees to unleash their woes, by the media to break the news, and by the general public to offer support. But in an interesting turn of events, this hashtag is now chock-full of hungry recruiters eager to tap into this pool of top talent.
So what social recruitment strategies can we learn from this event?
1. Skip the job boards

Forget Monster.com or CareerBuilder. Scout candidates on Twitter or LinkedIn. With Twitter, you can search hashtags such as #contentmarketer then narrowing your results by selecting the "near you" option.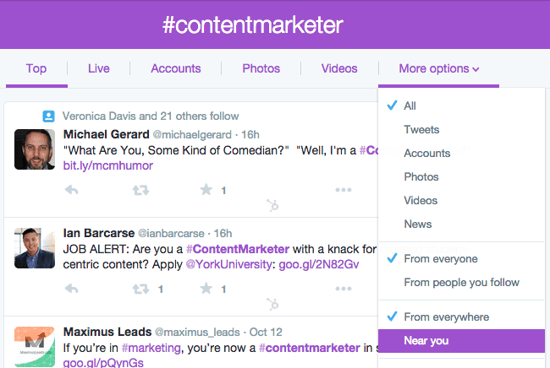 It's similar with LinkedIn. Search for related positions and select the city near you. (Oh hey, it's me!)
Sure this may not be the route you want to take because it involves poaching people, but in this day and age, recruiters need to seek out talent.
2. Keep up with trending hashtags

If you're a recruiter trying to fill an engineer role, and you're just idly refreshing your inbox in hopes that a qualified candidate will magically apply, you're missing out. Just take a look at #Twitterlayoffs. It's already well known that these giant tech companies only seek out the best of the best. So who wouldn't want one of these folks at their own company?
3. Spruce up your website and social presence

You can be sure that if you contact a job candidate, they're going to look up your company's website and social media pages. If your pages aren't up to par and looks as if a ten-year-old child slapped it together, you can be sure that you won't be hearing back from that candidate.
Tell your company's story, show some behind-the-scenes pictures — make it so that whenever a candidate comes to these pages, they'll feel like they need to be a part of your organization.